Ebang Ebit E10.3 in Dubai, UAE
Ebang Ebit E10.3 – Ready stock available in Dubai (Call +971552305571 to order)
(UPDATED: Today) (VAT Invoice & DHL Delivery Available in GCC Countries)
Ebang Ebit E10 adopts the latest independent developed 10nm chip, the ideal hash rate can be 24TH/S (SHA-256 Algorithm), It has low power, high hash rate advantage, and using the independent heat sink, with excellent heat dissipation. Heat sink using the latest bonding technology, the shell material is more robust, to provide better protection for your machine and bring high benefit to the global miners.
Judging value in this space is a complicated exercise, although it would appear that nothing vastly technologically-superior to the Bitmain Ebang Ebit E10.3 is likely to be released in the near future.
Buy / Sell Used Ebang Ebit E10.3 here. You can buy Ebang Ebit E10.3 online with your credit card.
Ebang Ebit E10.3 Specification
Brand Name
Ebang
Product Model Number
Ebit E10.3
Hardware Platform
Linux
Operating System
Built-in
Item Weight
21.6 pounds / 9.8 kg
Product Dimensions
5.7 x 7.4 x 16.4 inches
146 x 189 x 418 mm
Item Dimensions L x W x H
147 x 161 x 305 mm
Processor Brand
ATI
Chip
4 x DW1228 (10nm)
Processor Count
280
Computer Memory Type
DDR5
Hard Drive Interface
Solid State
Power Voltage
2700W / 11.60 – 13.00 Volt (DC Power)
Network Interface
Ethernet
Fans
2 x 12038
Noise Level
75db
(Reduce noise with Crypto Mining Rack Enclosure)
Temperature / Humidity
10 to 40 °C / 5 to 95%
Power Supply
The APW3++ for E10.3 PSU is the recommended power supply for safe and efficient Ebang Ebit E10 Bitcoin mining.
SHA 256 – Bitcoin Mining Pools (AntPool and Alternatives to Bitmain Antpool)
AntPool (Recommended) (PPLNS / Free)
NiceHash (RESELL)
SlushPool (PPLNS / 2% Pool Fee)
ViaBTC (PPS+ / Free)
Poolin (PPS / Free)
The Present & Future of Nanometer Technology in Ebang Ebit E10.3
The on-going miniaturisation of semiconductors allows ever greater computing power and electrical efficiency, but the process cannot continue forever with the current technology. The 10 nm fabrication process used in the manufacture of the Ebang Ebit E10 is a major improvement upon the 16 nm design common to other modern mining devices. Further, the design and manufacture of any 10nm Bitcoin mining hardware are likely to take at least a year.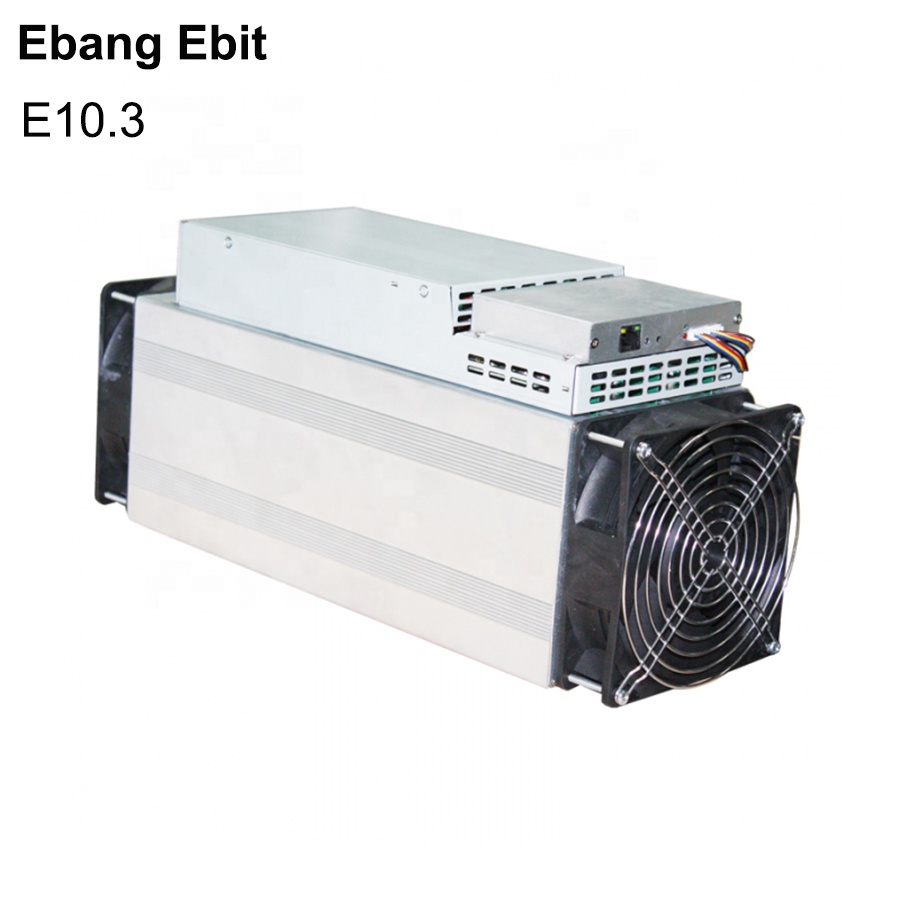 Difficulty
Difficulty changes every 2 weeks, usually to the upside.
Solo Mining Vs Pool Mining
Although the Ebang Ebit E10 is plenty powerful, a single unit is highly unlikely to find any blocks when solo-mining. Pool mining is the most efficient and practical way to mine Bitcoins.
Warranty
Bitmain supply their customers with a 180-day warranty, however, that warranty comes with limitations. For example, the warranty won't be valid if you overclock the miner (running it at a higher speed than it was designed to run). Also, if you use an inappropriate power supply or generate environmental damage to your miner you won't be eligible for a warranty (e.g. lightning strike, corrosion due to the wet environment).
FAQs
How to reduce the noise of Ebang Ebit E10.3?
Try Crypto Mining Rack that can reduce Ebang Ebit E10 noise levels and manage heat. This will allow you to run Ebang Ebit E10 inside the office or at home. The Rack enclosure can accommodate up to 8 Ebang Ebit E10 machines per rack. Besides, Ebang Ebit E10, you can run any ASIC miner with a similar form factor that of Ebang Ebit E10.
What are the coins can you mine with Ebang Ebit E10.3 (SHA 256 Algorithm & Equihash)?
Bitcoin (BTC), ACoin (ACOIN), Cure Coin (CURE), Bitcoin Cash (BCH), Peer Coin (PPC), eMark (DEM), Joule Coin (XJO), Unbreakable (UNB), Crown (CRW), Terra Coin (TRC)
Bitcoin Gold (BTG), ZCash (ZEC), Bitcoin Private (BTCP), Komodo (KMD), ZenCash (ZEN), ZClassic (ZCL), BitcoinZ (BTCZ), Hush (HUSH), Zero (ZER), Bitgem (BTG), Zelcash (ZEL).